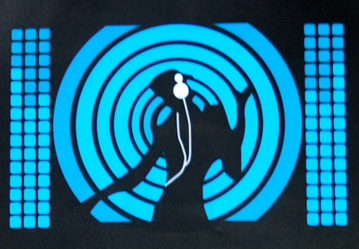 What We Do?
At Elumen8 we manufacture, produce and supply illuminated surface solution, using electroluminescence (EL) technology, to individuals and corporates for branding and advertising purposes.
Elumen8 offers a range of electroluminescence solutions, which can be customised to work with our client's needs at an affordable cost.
EL light products are flexible, thin and lightweight. Designs and logos can be animated and made into different shapes and sizes depending on requirements. In addition, they can be mounted onto any surface.
At ELumen8™ we combine professional services with quality controlled production and manufacturing.
Electroluminescence
Traditional lamps such as an incandescent light bulb emits light by heating a filament and a fluorescent or neon tube emits light by charging a gas field.
Electroluminescence relies on Phosphor that glows when exposed to a small electric current. In EL Lamps, the source of light is a phosphor mixture, which is spread onto a transparent, conductive ITO film and then covered with another thin sheet of conductive material.
Unlike traditional lamps, EL lamps do not heat up they remain cool. They are low power and emit a soft light without any irritating glare. They are invariably very thin, almost like ribbons or sheets of paper, and they can be produced in a variety of colors, shapes and sizes.
They can be used both indoors and out.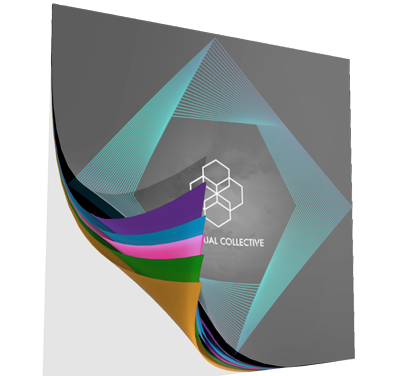 Benefits of Electroluminescence
New, Innovative and Cost Effective Technology.
Premium medium for optimum brand promotion.
Flexible and paper thin.
Even surface illumination.
Customizable in terms of size, shape and aesthetics.
Energy efficient "green" technology
Long lasting (up to 2400 hours).
EL Standard Lamps:
Standard lamps are readily usable blank electroluminescent lamps that are available in the following sizes:
14.8 cm X 21 cm (A5)
29.7. cm X 21 cm (A4)
29.7 cm X 42 cm (A3)
The standard lamps can also be made up to the areas of 300cm2 to 1200cm2.
EL Tapes:
EL Tape is a thin glowing tape that can be bent and cut. It can be used for outlining any shape or to create long lines of light.
EL Tape can be customized to different sizes and patterns and used for various purposes including marketing and product enhancement.
The standard sizes available are:
1 inch X 48 inch
0.5 inch X 72 inch
Fashion and Accessory:
EL is a breakthrough in branding and lighting technology. Small EL lamps can be sewn onto fabric to make designs and logos on t-shirts, caps, bags, plus many other clothing accessories, stand out from the crowd. The lamps can have either a pre-programmed animation or can be sound activated.
A faint electrical charge is required to illuminate the EL lamp and this is produced by a removable battery pack that holds AAA size batteries.
Clothing remains washable since the battery pack can be removed and attached whenever required.
The lamps can have either a pre-programmed animation or they can be sound activated.
EL Stickers:
EL Lamps are available as stickers and can be specially adapted for vehicles. The stickers are able to follow the intricate contours of the vehicles bodywork.
They can be used to brand buses, cars and other forms of motorized transport with the sticker using the vehicle's battery for power.
The stickers are available in pre-programmed animation or in basic constant glow.
Advertising and branding:
EL lamps are an innovative, cutting edge technology that are a cost effective method for advertising and branding.
Animated advertisement panels can be made by creating intricate and detailed designs using the versatility and flexibility of EL Lamps, perfect for:
Corporate Logos.
Product Promotion.
Advertising and Branding (both indoor and outdoor).
Visual Merchanding for store fronts and in-store Branding.
Interior Space Design and execution ( pubs and theme based spaces).
Exhibition Space Design and Execution.
Point-of-Sale and Point-of-Purchase Displays and stands.
The light emitted from EL lamps is cool and bright therefore making it an ideal choice for back light display and advertisements.
These lamps are available in standard sizes:
14.8 cm X 21 cm (A5)
29.7. cm X 21 cm (A4)
29.7 cm X 42 cm (A3)
59.4 cm X 42 cm (A2)
The lamps can also be made into custom sizes with the maximum size being 59.4 cm X 42 cm (A2)
The lamps can also be in custom sizes and die cut with the maximum size being 59.4 cm X 42 cm (A2).
We undertake and execute EL based services in capacity of consultants and turnkey Service Provider: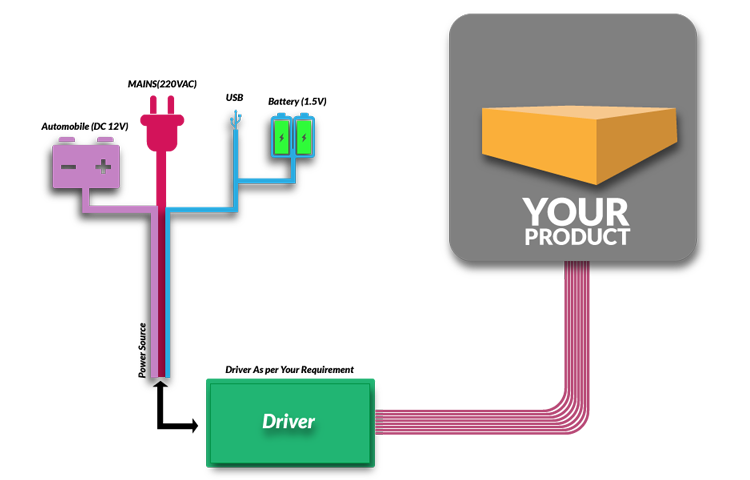 Making an EL Lamp
The EL Lamps are made up of layers of different chemicals which in combination produce an electroluminescent glow. For final use an artwork is placed upon the EL lamp and the whole lamp along with the artwork is encapsulated in a clear film to protect against any humidity or similar variables. A conductive substrate is used as a base for an EL lamp onto which electroluminescent ink is printed. The ink is then insulated with a dielectric insulator and finally a conductive ink is printed. After each layer the sheet goes through proper curing and drying. The whole process is screen printed in a controlled environment.
Our Research and development
Our research has enabled us to develop five different chemical composition for different applications. Standard Composition (E89) was the base for further research. All the chemical compositions are white in colour, other features can be assessed from the charts and graphs.
| | | | | | |
| --- | --- | --- | --- | --- | --- |
| Composition Number | Type | Colour | cd/m2 | ft-L | Half- Life Hours |
| E88 | Economy | White | 47.3 | 13.8 | 1000 |
| E89 | Standard | White | 57.2 | 16.7 | 1200 |
| E90 | High Bright | White | 69.4 | 20.3 | 1300 |
| E91 | Super High Bright | White | 76.9 | 22.5 | 1300 |
| E92 | Long Life | White | 49.4 | 14.4 | 2400 |
Uses For Different Compositions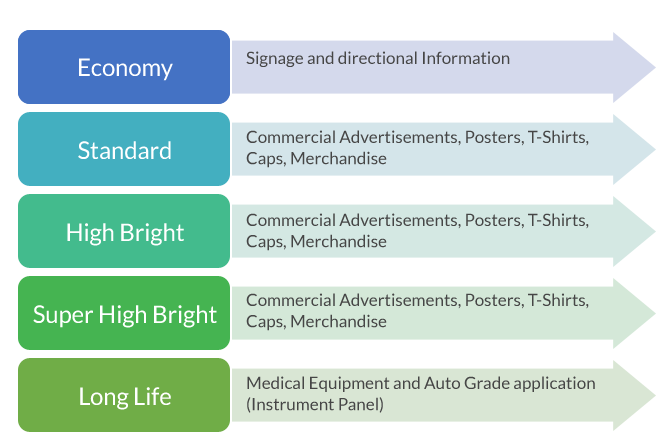 Trigger type
Trigger type EL lamps automatically illuminates when an event occours. Trigger can also be combined with other triggers to produce customized electroluminescent lamps as per customer's desires. Following are the few triggers that can be used individually or can be combined with other triggers:
Manual trigger: The most basic Trigger, the EL lamp glows constantly once it is switched on.
Light Sensitive: The Trigger allows the EL lamp to switch on/off when there is a light in the surrounding.
Sound activated: The Trigger allows the EL lamp to switch on/off when sound is present in the surrounding.
Pre-Programmed: The Trigger allows the EL lamp to switch on/off with a pre programmed animating different sectors of the EL lamps.
Proximity: The Trigger allows the EL lamp to switch on/off when someone or something is present in the proximity of the EL lamp.
Driver Type
Each EL lamp works with an EL driver.
These drivers supply electricity in a controlled manner to the EL lamp.
A driver's type depends on the amount of area that has to light up.
Driver Type
Operation
Manual trigger
Light Sensitive
Sound activated
Pre-Programmed
Proximity
6 Volt DC
Battery
Yes
Yes
Yes
Yes
12 Volt DC/AC
Battery/car
out/220v ac offline
Yes
Yes
Yes
Yes
Yes
220Volt AC
Yes
Yes
Yes
Yes
Yes
DRIVER TYPE: 6 Volt DC
Operation
Battery
Manual trigger
Yes
Light Sensitive
Yes
Sound activated
Yes
Pre-Programmed
Yes
Proximity
DRIVER TYPE: 12 Volt DC/AC
Operation
Battery/car
out/220v ac offline
Manual trigger
Yes
Light Sensitive
Yes
Sound activated
Yes
Pre-Programmed
Yes
Proximity
Yes
DRIVER TYPE: 220Volt AC
Operation
Yes
Manual trigger
Light Sensitive
Yes
Sound activated
Yes
Pre-Programmed
Yes
Proximity
Yes
Surface Application
Wall
Glass
Metal
Acrylic sandwich
Product
Packaging
Standee/table top displays
Floors and ceiling
Automobiles
Elumen8 is a subsidiary of Tactical Value Technological Solutions Pvt. Limited, a premier electronics and software development firm founded in 2004.
Elumen8 is a full service-manufacturing unit that provides customised EL light products to our customers. Elumen8 has a dedicated team of technology professionals who constantly and seamlessly innovate and develop EL light solutions for a wide variety of advertising applications.
Quality and customer satisfaction are key factors in the success of any business, therefore, we have invested heavily in our state of the art, fully equipped Research, Development and Production Centre, based at Noida near Delhi.
Since quality is of paramount importance to us, we at Elumen8 focus on rigorous quality control, constant innovation and highly trained technicians and staff. Our professionals are well versed with all aspects of EL light technology, design, production and testing.
The Elumen8 team continues to work closely with our customers to understand their specific needs and provide them with a quality and optimum EL light solution.
Our Mission
Through our leading-edge research, a new advertising media is born in the form of EL. We believe this technology will add new dimensions to the world of digital advertising and drive on-shelf product brand/ recognition.
We are sure that ELumen8™ will play a major role in transforming the face of digital advertising across the world by shifting the existing paradigms and establishing new benchmarks. Our mission is to produce state-of-the-art EL Products by blending the cutting-edge science and technology with the sheer force of creativity and innovation. We are determined to make ELumen8™ world's no. 1 company in the field of EL and Creative Digital Advertising.
Core Philosophy
Core philosophy of ELumen8™ is based on simplicity, honesty, integrity, professionalism and accountability. At ELumen8™ we take quality very seriously and we're driven by a consistent focus on our customers' needs and feedback. Our standards for quality are non-negotiable. We always strive for excellence and believe that "Good enough is not enough". Our team is passionate about our products and believes in forward thinking with a flexible approach.
We value our employees
We believe in the policy of 'Employees First' and value the people within our organization more than anything else. We believe that they are the source of our strength, reputation, future growth and prosperity. Accordingly, all of our employees will personally assume the responsibility of conducting themselves in an ethical, accountable and cooperative manner. We will recognize and reward the conscientious efforts of productive employees.
ELumen8™ will always encourage the personal and professional growth of each member of its staff.
Zero tolerance to child labour
The employment of children or underage youths for the production of EL and related products is not acceptable toELumen8™ under any circumstances and is viewed as being a serious infringement of the ELumen8™ Code of Conduct.
The first step in the fight against child labour already begins when a business relationship is planned. In the ELumen8™ Code of Conduct we make it very clear that we do not tolerate child labour under any circumstances. Our contractual manufacturing partners have to sign their understanding of this fact. Infringements of this principle are viewed as being a serious breach of contract. Relevant sanctions will be applied swiftly and without exception in cases where contraventions of the Code are encountered.
Corporate, social and environmental responsibility
We firmly believe in the concept of Corporate Social & Environment Responsibility and our pledge to give back to the society & nature underlines the ELumen8™ way of conducting its businesses.
Our commitment in the environment starts from our product itself. EL produces 'cool and harmless light' so no energy is wasted in generating heat. The consumption of electricity by EL products is nearly negligible when compared to other forms of digital media. This fact alone makes it 'greenest of all' in comparison.
As a part of dispensing our Social Corporate Responsibility, ELumen8™ regularly supports a number of charities including NSPCC™, UNICEF™ and Amnesty International®.